Betsy is a quite a "character". Her life story is so charmed and unique that even the stone-cold-facts sound made-up. She claims to have come up out of the Suwannee River.... We've heard her tell that she was born in the mouth of an alligator, wearing red high-heels and singin' the blues. She says a lot of things.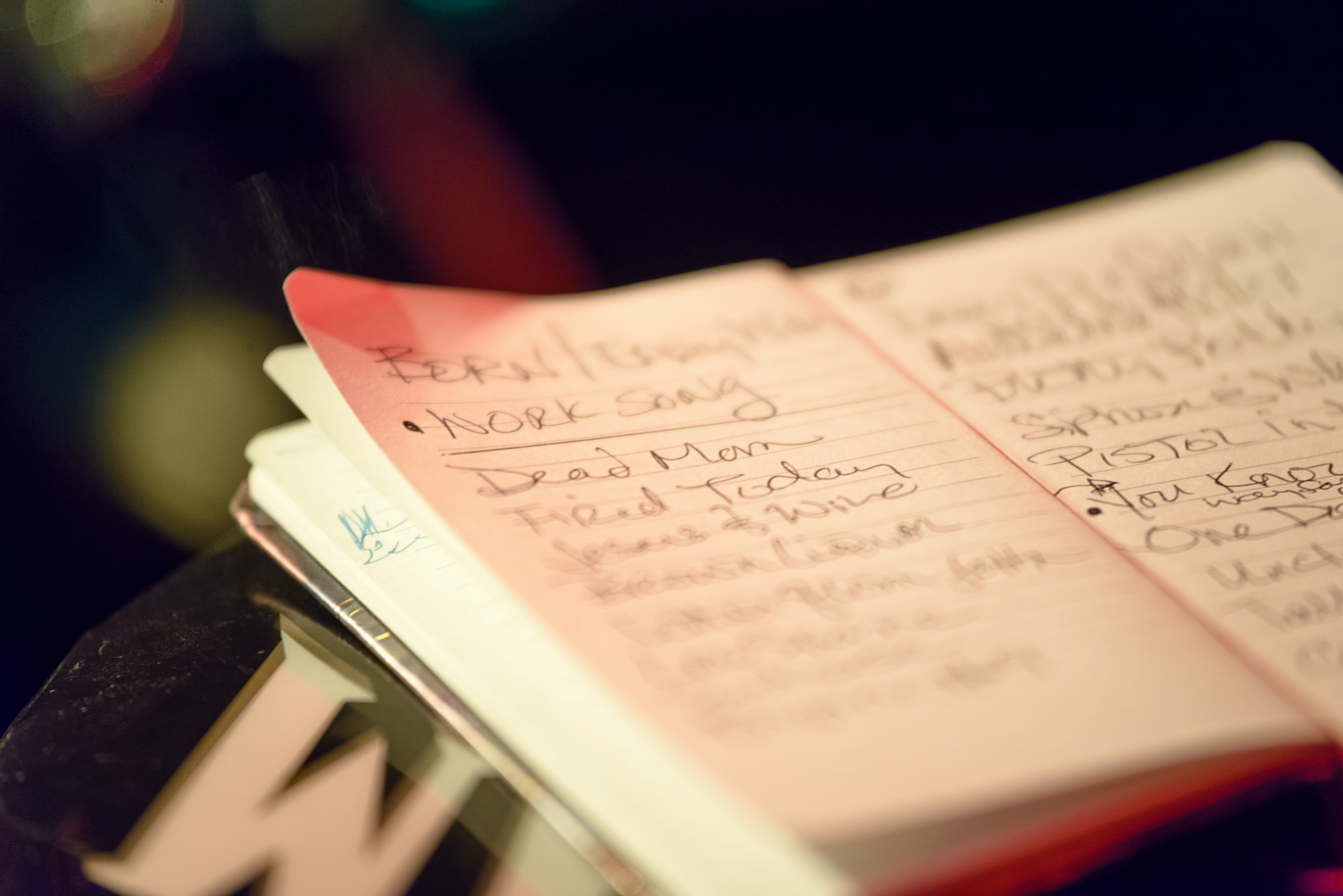 A setlist in one of Betsy's songbooks. Photo by Reggie Thomas

Whether or not her tall tales and story songs have any basis in reality, we do know that she is, in fact, is a former 6-12th grade teacher and mental health counselor in residential facilities for adjudicated male youth. Funding cuts for mental health in the state of Florida shut down the facility where she worked for many years. Betsy took losing her job as a sign and turned to her hearts desire to play music and create art as permanent way of life. The same formal education and work ethic that made Betsy successful in her academic and counseling career still serves to keep her unsinkable in her new life. The struggles never had a chance to squash her soul.

She's also, proudly, the daughter of a long line of Primitive Baptist preachers, church founders, and singers. Betsy's been writing songs since she was a very little girl in the backwoods of Taylor County, Florida and learned most of what she knows about music from church. Like Ralph Stanley, Betsy learned, from infancy, to sing in the Appalachian High-Lonesome and acapella "song lining" singing style heard almost exclusively in Primitive Baptist churches. She picked up her percussive cadence and pacing from the unique preaching style of her father, uncles, and grandfathers. "They had a sort of a hiccup and a stagger step that lulled babies to sleep at the same time as activating the amen pew". Betsy's gigantic voice came out of a family of gigantic voices- when there's no music in church, you have to sing loud... or "out," as they say in the country, and the sound can be as frightening as it is beautiful.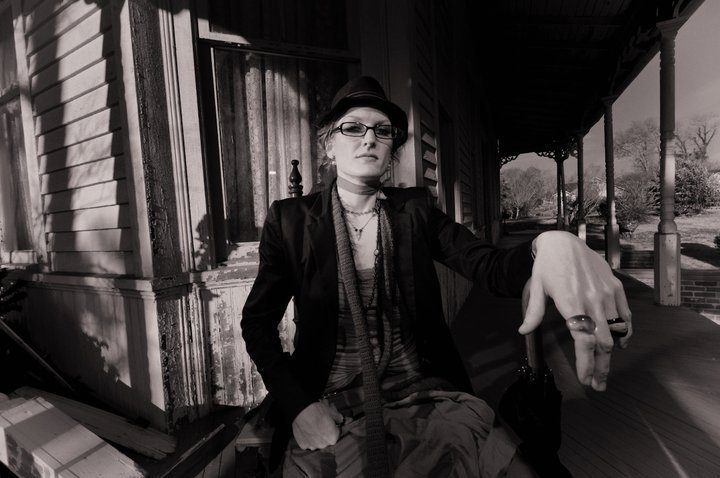 Betsy Badwater at Merrehope, Meridian, MS. Photo by Reggie Thomas
Betsy's songwriting and storytelling is often (but not always) harsh and dark, in the "southern gothic," southern grotesque, Appalachian, and Irish folk tradition. What's unique, though, is that Betsy offers grace to the listener through her songs in a well-read, worldly, loving way. She inspires introspection and forgiveness through tales of scoundrels and lushes. Our pint-sized preacher's daughter sings as many unique but relatable tales of mischief and humor ("Left-Hand Side", "I Got Fired Today," "Coon Hill Mary" & "The Trouble With Women in Hooker Flatt, ARK") as murder ballads ("Tall Dark Stranger", "Dear Delilah" & "Dead Man Walkin'") and morally-questionable, anti-gospel thought provokers ("Jesus & Wine", "Hill County Blues" & "Uncle"). Her first two albums, 'Tall Tales' (2008) and 'Tales of the Wayward' (2009) are gritty, self produced collections that include the rawest, most honest live recordings available, beloved by fans as well as critics. 'Hometown Money' (2013), (self-produced, with a few songs produced by Chris Thomas King), is the third release, and most lighthearted collection of songs produced by Badwater to date. The album includes a range of textures and cultural influences, but there is a distinct Louisiana flavor: zydeco, second-line, antebellum gospel, and swamp-blues all feature prominently throughout. 
The newest release by Betsy Badwater, aptly titled 'IN SPADES' (2018), is quite a step out from the self-produced albums of the past ten years. 'IN SPADES,' engineered and produced by Ben Lorio (with two songs produced by Chris Thomas King), and mastered by Pete Lyman, features a cast of globally and regionally acclaimed studo musicians (including Chris Thomas King, Shane Theriot, Clarence Johnson, Jerry Pentecost, Michael Skinkus, Joe Krown, Myles Weeks, Jordan Kimsey and Paul Buller), along with Betsy's band, all hailing from New Orleans and surrounding areas. The album ranges in texture from gritty murder ballads and tales of cheating misfortune, to scalding hot love stories, to jangled-and-rowdy road adventures, all with rich atmosphere and palpable humidity. The record in its entirety is perfect for long haul road trips, with each song being completely different from the next, there is definitely something for everybody. Betsy is going to make you feel something.

Betsy Badwater has been some kind of musician/singer for all of her teenage and adult life, but in 2005, Badwater began performing as a one-man-band as well as with what she called her "Hillbilly Chrome": a group of friendly guest musicians from coast to coast that, "like silver Duck Tape, held it together in a pinch." The band was literally made up of Betsy's musician-friends who were local to whatever town the show was scheduled, from Los Angeles to Miami. Even during those early times, Betsy was getting around. She has performed coast-to-coast, with as many as 8-10 members of "The Chrome" on stage at once, right on down to extended tours of up to 58 dates at once across 9 states touring as a One-Woman-Band. Betsy sings, plays guitar, stomps on a tambourine-topped bass drum with one foot, and adds other strange percussion (autoparts, washboards, a sink) with the other, all at the same time.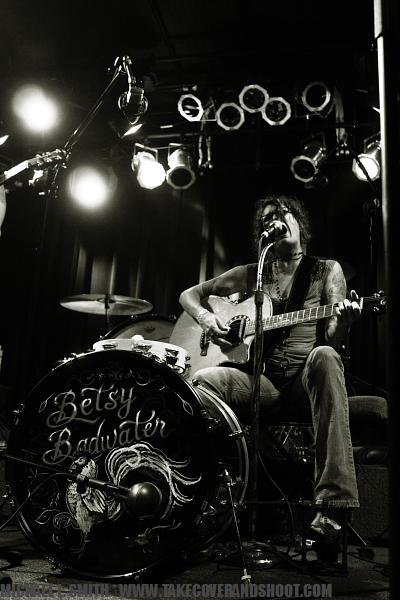 Betsy Badwater & The Hillbilly Chrome have performed for delighted crowds with international blues and country acts: The Ten Foot Pole Cats, Ramblin' Steve Gardner & Bill Steber, Miss Izzy Cox, and more. Betsy Badwater has been featured on NPR radio shows as well as commercial radio stations in Florida, Alabama, Mississippi, Louisiana, Tennessee, and Texas, as well as featured on PBS television, CNN and Headline News. Betsy had the honor to be called on to share one of her signature "Barndances" with Lamar Morris (classic country songwriter for Loretta Lynn, Lefty Frizzell, Mel Tillis & Hank Williams, Jr.) and his daughter for her birthday. Opening on repeated occasions for multiple-Grammy-winning acts: Chris Thomas King, Rodney Atkins, Ray Benson & Asleep at the Wheel, Larry Mitchell Band, Buckwheat Zydeco, and opening a sold-out show for the "Legendary Outlaw" David Allan Coe has brought the band into the eye of the local and regional community and encouraged Betsy Badwater to reach for even greater exposure as a singer/songwriter, one-woman-band, and musical collective.

Betsy is quite the prolific songwriter, having written the words and music for more than 250 songs and at least 5 thematic albums worth of material that is just waiting to be recorded. Betsy's first studio record, HOMETOWN MONEY, released August 17, 2013, was completed at The Shed Recording Studio in New Orleans features Grammy-winning movie star, and blues/Americana hero, Chris Thomas King (O, Brother Where Art Thou, Ray) as Producer and multi-instrumentalist. She toured the record as a One-Woman-Band in a 57-show run of 9 states from August to October of 2013. Her latest album, and the fanciest production to date, IN SPADES, released July 2, 2008, was also recorded in New Orleans between three studios, The Music Shed, Below Studio, and Race Street Studio, produced by Ben Lorio (with 2 songs produced by Chris Thomas King), and engineered by Ben Lorio (with vocals engineered by Betsy Badwater at Race Street Studio). Betsy toured IN SPADES pre-official-release with her side band, THe Ditchweeds, via Amtrak Coast Starlight Train from Seattle to Los Angeles in the spring, stopping off in different cities in Washington, Oregon, and California to play music and sell records.  

On the calendar for the next year Betsy has plans for a 100% solo self-made recording project, as well as 2 different collaborative recording projects: one with The Ditchweeds, and another with a new cast of musicians. Betsy is a daytime graphic designer, illustrator of children's books, and a professional custom tattoo artist and owner of Sweet Betsy Tattoos tattoo studio in Pensacola, Florida. She is the mother of one beautiful and talented son who is also an artist, musician, and aspiring chef, and a sweet ole burnt-marshmallow colored mutt dog. And yes, it is really true that Betsy only owns RED shoes...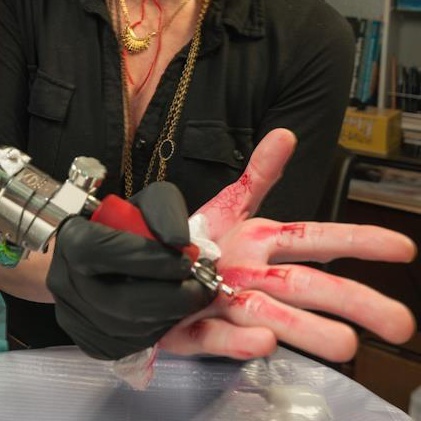 Betsy tattoos her own hand at Sweet Betsy Tattoos, Pensacola, FL. Photo by Reggie Thomas. Jewelry by Angel Court Jewels

Betsy would like to thank sponsors:
Reggie Thomas Photography 
Curt Mangan Guitar Strings
The Music Shed Recording Studio, NOLA
Historic Streetcar Inn, NOLA